At Normanton Junior Academy, we are committed, in partnership with our families, to the safeguarding and protection of all pupils when using the internet and online platforms, devices, websites and apps. Where school has a safeguarding concern, about a pupil's online activity, the Designated Safeguarding Lead will liaise with parents/carers, and will seek support from outside relevant agencies, where necessary.
We are on a mission to help keep our children safe online and so we have become members of the 'National Online Safety' community. We will be launching in Summer Term 2 2022 and will begin our journey to becoming an NOS Certified School – https://nationalonlinesafety.com/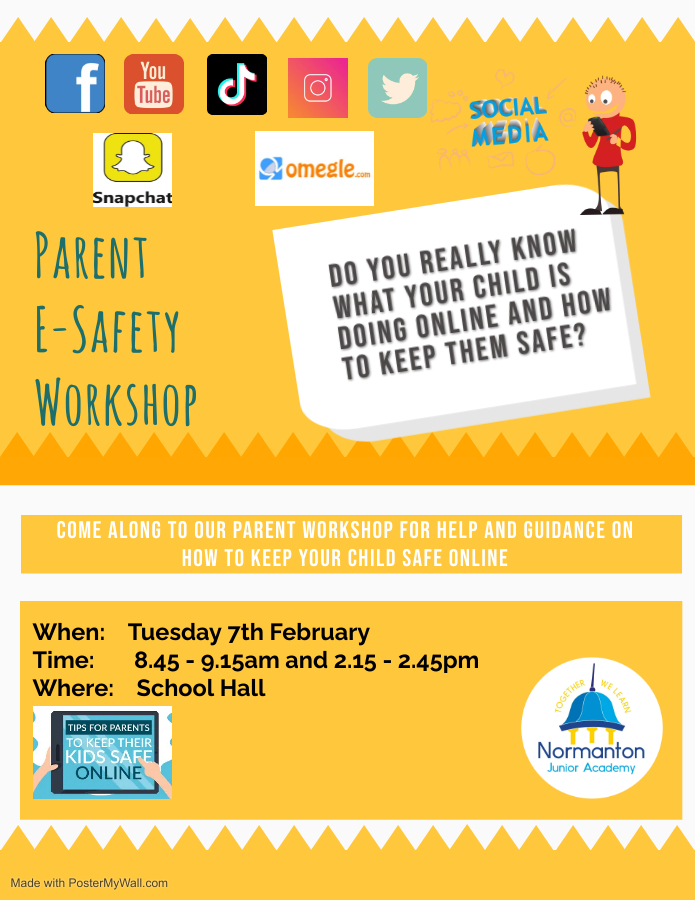 Online Safety – Useful links and support for Parents/Carers
Apple Family Sharing – https://www.apple.com/family-sharing/
CEOP Online Reporting
Are you worried about the way someone has been communicating with you online? Make a report to one of CEOP's Child Protection Advisors
Childline – 0800 1111
A new online tool has been launched by Childline and the Internet Watch Foundation, which will allow the under 18s to report any nude image of themselves that have found their way onto the internet.  This is simply done by creating an account with Childline and reporting a particular image.
Childnet International
Online Gaming: An introduction for parents and carers. This leaflet explores the online gaming environment and provides a wealth of safety advice.
Common Sense Media
Provides reviews for what children want to watch (before they watch it) – Trusted ratings created with families in mind.
Family Sharing
Microsoft, Google and Apple all support family sharing; this is where different accounts can be shared and controlled (for example Microsoft allow blocking xBox access during certain times of the day).
Google Family – https://families.google.com/families
Internet Matters – https://www.internetmatters.org/
Internet Matters is a charity website that has been set up to give parents and carers information to keep children safe in an online world. Internet Matters has much information regarding how to set up filtering using your service provider as well as with mobile devices.
London Grid for Learning – https://www.lgfl.net/online-safety/
This site provides support for parents and carers to keep their children safe online.
Microsoft Family Sharing – https://account.microsoft.com/family/about
National Online Safety – 7 Questions to help you start a conversation with your child about online safety
7 questions that will help you start an initial conversation with your child, so you have a better understanding of what they do online and how you can protect them.
NSPCC – Online Games
Advice for parents to understand the risks and help your child play online games safely.
NSPCC Net-Aware – https://www.net-aware.org.uk/
Information provided by the NSPCC covers all aspects of online activity and access.
Parent Info from CEOP and Parent Zone – https://parentinfo.org/
Parent Info is a collaboration between Parent Zone and NCA-CEOP, providing support and guidance for parents from leading experts and organisations.
Parent Zone Library – Explore guides, advice and information around all the online platforms and trends at the heart of digital family life.
Reporting Content or Issues
If you do find harmful content on the internet, or find that your children have accessed inappropriate material, or are being bullied online there are a number of sites that should be used to report these :
Safer Internet – https://www.saferinternet.org.uk/advice-centre/parents-and-carers
Safer Internet has a large amount of resources for keeping safe whilst online.
Social Media Age Restrictions Guide for Parents
Are you aware of the minimum age for account numbers on popular social media sites and apps?
Social Media Guidance for Parents
A practical guide for parents and carers whose children are using social media.
Swiggle – https://swiggle.org.uk
For younger pupils, Swiggle is a safer search engine that uses a filtered version of google.
Think U Know – https://www.thinkuknow.co.uk/
Think-U-Know is the education programme from NCA-CEOP, a UK organisation which protects children both online and offline.
Watch with your child – ages 4 to 7 years – to learn about Esafety – Jessie and Friends
This series of three animations aims to give 4-7 year olds knowledge, skills and confidence to help them respond safely to risks they may encounter online.
Watch with your child – ages 7 to 11 years – to learn about Esafety – The adventures of Kara, Winston and the Smart Crew
These cartoons illustrate 5 e-safety SMART rules and include a real life SMART Crew of young people, who guide the cartoon characters in their quest, and help them make safe online decisions.
'Digital Parenting' Magazine
Each year, NJA provides our families with a copy of Vodafone's 'Digital Parenting' Magazine.
For an electronic version of the latest issue, click on this link: Digital Parenting Magazine
The annual guide has been created to help keep children safe online, in partnership with schools, youth and family support organisations, as well as parents.
Please visit the website for more details: https://www.vodafone.co.uk/mobile/digital-parenting
Parental Controls
Many of you will be familiar with the more traditional gaming formats and popular consoles – Xbox, PlayStation, Nintendo and PC. Internet Matters have created step by step parental control guides for smartphones, search engines, broadband, mobile networks, social media and gaming consoles to assist parents and carers in putting them in control of what content their child(ren) can see.